Business Completion Meter
January — April 2021
Introduction
Small businesses who are getting started online always face a universal problem:
I don't know what to do next.
While streamlined onboarding can help a business get their account made quickly, business admins generally lack time and resources to properly get set up and achieve results on our platforms.
Since Facebook Business Suite (FBS) was a brand new platform for small businesses, we decided solving this difficult problem on FBS was the next place for our team to work in.
Goals and Focus
Since onboarding as a problem space is quite large, our team decided to focus on three themes as a priority for our project:
Activation, what helps a user understand Facebook Business Suite

Cross-family, what helps enable admins to manage multiple presences (both Instagram and Facebook)

Success, what will help a business become successul online with customers
Some
non goals
of our project were:
Navigability, another team was building a product tour

First time experience
Acquisition
Success metrics:
Conversion rate of all onboarding items

Weekly active admins
Other metrics we tracked:
Conversion rate to click through rate for steps

Conversion rate to click through rate for entry point

Return rate

---
The Process
Team name: Business Experiences
Team: Product Design, PM, Content Design, Engineering, PM, DS
Disclaimer: All prototypes are made entirely by me
01 | Lit Review
We conducted a lit review of all existing research about small businesses on Facebook Business Suite (FBS). We also compiled any existing research on general sentiment and usability with FBS.
From this review we extracted 5 main Jobs to Be Done on the app:
Get transactions and outcomes

Manage business presence

Connect with potential customers

Save time
02 | Data Analysis
Partnering with my data scientist and product growth analyst, we then pulled together all the top actions related to long term engagement and retention on the app:
Add your business details

Connect your other accounts

Create a post

Create a story

Upload a video

Schedule posts

Invite friends to follow you

Set up an Action Button

Create a shop

Set up appointments

Run ads

They found that if a user completed any of these actions within the first 21 days of onboarding, they were more likely to become a long term user.
03 | Content Mapping
Using both the research JTBD and this list of retentive actions, we began mapping how these actions related to the JTBD.
This then led us to development the concept of "sections" in our onboarding flow. These sections were inspired by the mapping from JTBD.
04 | Prototyping
Once I had a clear idea of how much content would live in the onboarding tool, I moved into assembling and prototyping the full experience.
The side tray
: Knowing that onboarding happens across the entirety of FBS, I worked with the Business Design Systems team to create a new component that could stay persistent across every page a user navigated to, but could also be collapsable and easy to find.
Sectioning:
Within the side tray, I opted to make all the sections collapsable for ease of use, especially since a user might not want to work through the steps linearly.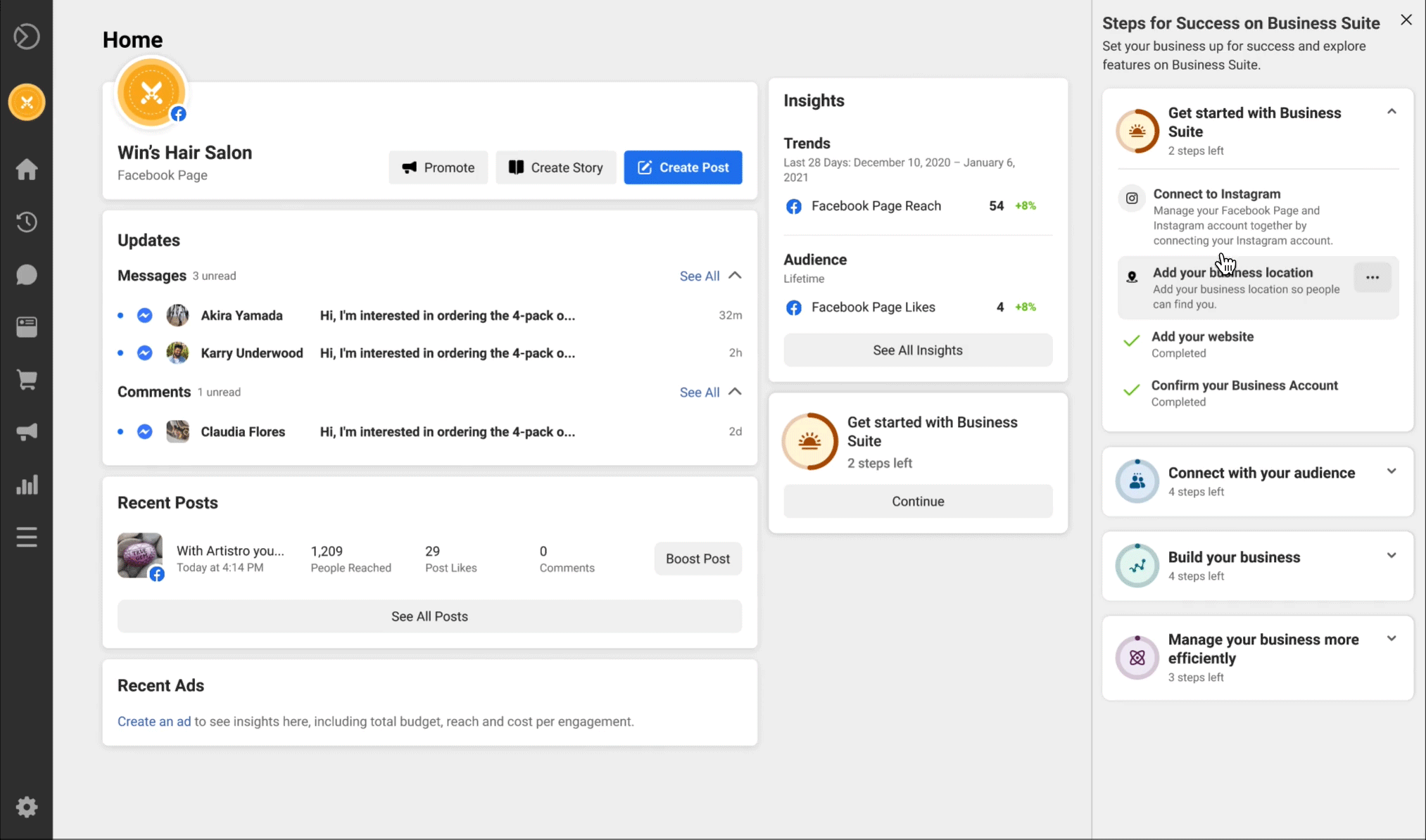 Completing a step:
Using Figma to test out different interactions of completing a step and aligning on which components to use.
05 | User Testing
After completing an entire functioning prototype in Figma, I worked with the rolling research program at Facebook to conduct user testing. The study was made up of 8 US participants who did 60 minute long moderated concept testing over video call.
Top insight
: Users did not percieve the entry point.
Iteration
: Two new entry points for testing. We selected entry point two on the right based on the data and consideration for other units that may also need to live in the same right column.
---
Results and Conclusion
After a month long experiment with positive results, we shipped the Business Completion Meter to all Facebook Business Suite users.
Since this project had a firm and tight timeline,
I was able to use the success of this experiment to push for increased investment in onboarding iterations across the org.
Follow up 1: Redesigning on Facebook App
I redesigned a similar version of the product on the Facebook App which led to an increase in engaged users
Follow up 2: Cross-Org Onboarding Sprint
A few months later I proposed and lead a week long cross-org onboarding sprint with over 15 teams which resulted in a cross-app North Star vision that is being incrementally built by various teams.
Example slides from our final deck
Follow up 3: Roadmapping
I proposed multiple new types of investments for onboarding which included:
First time user experience as a separate project from progression onboarding

Audience growth specific efforts

Business Completion Meter design iterations (to improve design and evolve with the changing brand of Facebook Business Suite)

Collaboration with Business Accounts teams
I partnered with engineering to size the technical and design efforts of these projects and also project possible impact. After I left the team these efforts of yielded high impact for our entire org and onboarding is now an entire subteam within Facebook Business Suite.